Our precision machining technology
embraces a wide spectrum of materials.
If your needs include small-lot products, complicated products or other challenges, we're the place to come.
We've installed the latest available NC lathes and machining centers, and at the same time, we have a full complement of conventional machining equipment such as general-purpose lathes and milling machines on our machining lines, and the knowhow to use them. No matter what you need, our broad lineup of machining technology assures the optimum solution geared to your requirements.
We accommodate single-piece lots, so don't hesitate to consult us regarding prototypes and single-item manufacturing.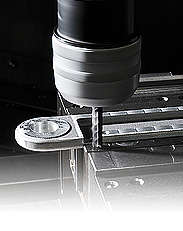 Whatever material or machining you need-we'll take it on!

In addition to steel and stainless steel, we also work with aluminum, titanium and other materials that are notoriously hard to cut.

We use 3-axis and 5-axis compound NC lathes and vertical/horizontal machining centers. By having fewer machining processes, we can offer highly efficient manufacturing.

If you're looking for machining of products that require exception strength, like axles and base carrier parts for vehicles, you've come to the right place. Our technology provides the solutions you need in material substitution as well.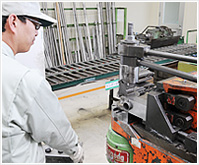 Minimal-size pipe bender
In our pipe bending processes, we handle pipes with outer diameters as small as 6.0 mm.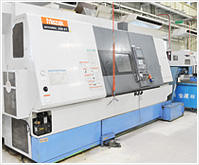 NC lathes
We have both 3-axis and 5-axis compound NC lathes. We can machine intricate shapes with a single chucking, providing high-level precision.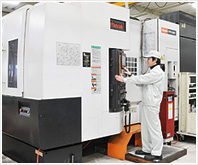 Machining centers
We have a total of eight machining centers, spanning all sizes. In addition to mainstream vertical models, we have horizontal models available as well.